Beaujolais
The Beaujolais is a French AOC wine generally made of the Gamay grape which has a thin skin and few tannins. Whites from the region, which make up only 1% of its production, are made with Chardonnay grapes. Beaujolais tends to be a very light-bodied red wine, with relatively high amounts of acidity.
The Beaujolais Region is located south of Burgundy and its climate is warmer. Because of the difference in region, the Pinot Noir grape normally grown in Burgundy would not do well here. The vineyards are located at the bottom of hillsides while the villages are located at the top.
Generally speaking, a Beaujolais should be consumed within the first three years of its life in order to ensure quality; only the wine produced by the best vintners improve with age for up to ten years.
Area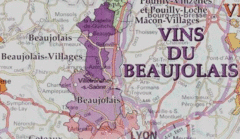 Vintage chart
Wines