Bourgogne
Although "Burgundy" means red, the Burgundy region produces both white wines and red wines. Reds are mainly Pinot Noir, whilst Whites are Chardonnay.
The wine region starts just south of Dijon at Marsannay-la-Côte and runs southward to just short of the city of Lyon. The area of Chablis stands on its own to the northwest of Dijon, about as close to Paris as it is to the heart of Burgundy
Burgundy wines can be described as varied, complex, human, and sophisticatedly homely. They are highly regarded because of historical tradition, and arguably because they transmit well the flavour of the land, what the French call terroir.The reputation, quality, and small numbers of production of the top wines means high prices and high demand. This leads to the wines of this region to be some of the most expensive wines in the World.
Burgundy experiences a continental climate characterized by very cold winters and hot summers. The weather is very unpredictable with rains, hail, and frost all possible around harvest time. Because of this climate, there is a lot of variation between vintages from Burgundy.
Area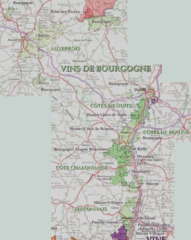 Vintage chart
White
1985: 8/10
1986: 8/10
1987: 6/10
1988: 7/10
1989: 8/10
1990: 9/10
1991: 6/10
1992: 8/10
1993: 8/10
1994: 7/10
1995: 9/10
1996: 10/10
1997: 9/10
1998: 7/10
1999: 8/10
2000: 9/10
2001: 8/10
2002: 9/10
2003: 7/10
2004: 8/10
2005: 9/10
2006: 9/10
Red
1985: 9/10
1986: 7/10
1987: 7/10
1988: 8/10
1989: 9/10
1990: 10/10
1991: 8/10
1992: 6/10
1993: 9/10
1994: 7/10
1995: 9/10
1996: 9/10
1997: 7/10
1998: 8/10
1999: 9/10
2000: 7/10
2001: 8/10
2002: 9/10
2003: 9/10
2004: 7/10
2005: 10/10
2006: 7/10
Wines